Johnna Elkins
Ranch manager, trainer, and trail guide
Johnna Elkins is the ranch manager at the Alaska Horse Ranch, who's main focus is to oversee the daily operations of our equine facility, as well as ensuring the health and soundness of all of our horses.
In addition to being the ranch manager, Johnna is also a trainer, riding instructor, and lead trail guide. During her time at the Alaska Horse Ranch she has had an array of experience including hauling horses from Canada, and packing in and packing out four of our horses 40 miles into the Alaska Range for sheep hunting.
Before joining the Alaska Horse Ranch team,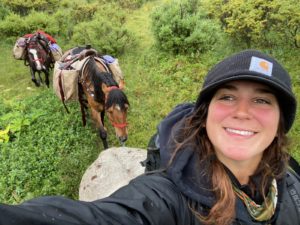 Johnna was a trail guide at Kualoa Ranch on the island of Oahu. She assisted with the basic care of 100 horses, and took guests of groups up to 16 on trail rides throughout the 4,000 acre ranch.
Combining her degree in natural resources, her experience in western riding, and her love of the outdoors, Johnna aims to share her knowledge and adventures with her clients, whether it be a lesson, trail ride, or pack trip.