Anke Knapp
Trainer and Dressage & Jumping Instructor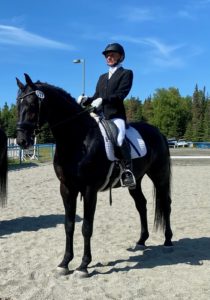 Anke Knapp spends most of her days at the Alaska Horse Ranch training our dressage horses. She is also an excellent instructor, teaching dressage lessons to intermediate and advanced riders.
Born in Germany, Anke began her love of horses on
an old circus pony named Max. Anke spent much of her time working and training horses for some of the top private equestrian facilities in Germany. After moving to the United States, Anke has lived and trained horses in Washington, Oklahoma, and upstate New York. She is an experienced horse owner and trainer and many of her students have been accomplished riders. Her expertise is in fine-tuning and resetting horses to be light and responsive with a gentle hand.
Anke is the main rider for our standing stallion Le Vemmion, and together these two make quite a pair. Since joining the Alaska Horse Ranch team, Anke made her mark in the show ring during Le Vemmion's debut in the Alaska Dressage Association's events of summer 2021.Together they were awarded three high point champion awards at the ADA Spring Festival for First and Second Level.